With about 15,000 people living in Calhoun County, odds are visitors won't feel hemmed in when they visit this county. The county does not only offer lots of elbow room but there are several scenic rivers inviting you to go with the flow.
Blountstown has the feel and look of a quiet southern town which is not surprising since it is a quiet town. Through historic markers and murals, visitors can easily pick up a history of this town simply by looking around. Just outside the Old County Courthouse on Highway 20, you will see the only Historic Marker in Florida written in two languages: Apalachicola Creek/Muskogee and English. The marker tells the Apalachicola Creek Indians who settled permanently in 1815 in what became Calhoun County.
On an old railroad line site, M&B Railroad Memorial Park is now an idle Baldwin 10 Wheeler locomotive. The railroad was built in 1911 and it was once used for hauling produce, passengers, lumber, and mail on the shortest railroad in Florida: about 29 miles between Marianna and Blountstown – hence the name 'M&B. Although the run only lasted until 1972, memories of the park lingered and in 1994 it was dedicated to the long history of the short line.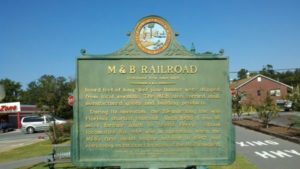 If you love tubing, kayaking, or canoeing, make sure visit the Chipola River. It is definitely a great adventure for beginners and experienced paddler. Whitewater is such a rarity in Florida that it makes look and tremble really a unique place. It attracts a lot of people and it's a really cool place to see. The Chipola River is fed by more than 60 freshwater Springs and is maybe Florida's most beautiful and natural River with limestone shoals, sand beaches, and rapids that are heaven for those looking for the great outdoor experience.
Also, you will find the Panhandle Pioneer Settlement Living History Museum in this county. This museum has a collection of 18 historical buildings dating from the 17th century to the 18th century. The amazing thing about this place is that all the buildings were taken from their original locations all through the county and brought to this place. They pretty much got everything that was in the pioneer settlement, including the jail, the store, the doctor, the cobbler shop, and the blacksmith shop. The settlement is home to several festivals and events and they also offer classes on the crafts and trades of the past.